Looking to discover the best things to do in Thimphu? Curious about the best activities that will make your visit unforgettable? Well, you've come to the right place! In this blog post, we're going to share with you the 10 best things to do in Thimphu that will turn your trip into a traveler's paradise.
Did you know that Thimphu is home to the fascinating Royal Textile Academy?
From our past experience of leading group trips here, we've witnessed the incredible craftsmanship and creativity that goes into every thread.
Discover the intricate patterns and vibrant colors that adorn the beautiful Bhutanese textiles. But that's just the beginning! We'll also guide you through enchanting monasteries, breathtaking hikes, captivating museums, and so much more.
Get ready for a journey filled with cultural immersion, natural wonders, and unforgettable experiences. Let's dive into the wonders of Thimphu together!
5 Facts about Thimphu
Thimphu is the capital and largest city of Bhutan.
It is located in the western part of the country.
It is the political, economic, and cultural center of Bhutan.
Thimphu is known for its unique blend of traditional Bhutanese architecture and modern development.
Thimphu hosts various festivals and events, showcasing Bhutanese culture and traditions.
Best Things to Do in Thimphu
1. Trashi Chho Dzong
Nestled on the banks of the Wang Chhu River, Trashi Chho Dzong stands as a magnificent fortress embodying the spiritual essence of Bhutan. Its towering white walls and intricate woodwork leave visitors in awe.
Step inside, and you'll be greeted by the serene atmosphere and ornate temples. Make sure to visit during the festive season to witness vibrant mask dances and immerse yourself in the rhythmic chants.
As you explore the courtyards, don't forget to pause and take in the breathtaking views of the river and surrounding mountains.
Location: Chhagchhen Lam, Thimphu
Famous For: Exquisite Bhutanese Architecture and religious significance
2. Changangkha Lhakhang
Perched on a ridge overlooking Thimphu, Changangkha Lhakhang is a revered temple that holds a special place in the hearts of the Bhutanese people.
Upon entering, you'll be greeted by the soothing aroma of incense and the murmurs of prayers. The temple is famous for its blessings for newborn children, and you may witness families bringing their infants to receive the blessings of the resident lama.
As you explore the temple, take a moment to admire the beautifully painted murals that depict the life of Buddha and the tales of Bhutanese mythology—step outside, and you'll be rewarded with panoramic views of Thimphu city and the surrounding mountains.
Location: Zilukha, Thimphu
Best Time to Visit: Throughout the year
Famous For: The oldest temple in Thimphu believed to bless newborn children
3. Tango Goemba
Embark on a soul-stirring journey to Tango Goemba, a Buddhist monastery nestled amidst the captivating natural beauty of North Thimphu. As you begin your hike through dense forests, the air fills with a sense of serenity.
The trail weaves its way up the mountain, rewarding you with glimpses of colorful prayer flags fluttering in the breeze. As you reach the monastery, the atmosphere becomes even more tranquil, offering a respite from the outside world.
Take a moment to meditate or simply soak in the peaceful surroundings. If you're lucky, you may witness the monks engaging in their daily rituals or hear their melodic chants echoing through the halls.
Location: North Thimphu
Best Time to Visit: March to May and September to November
Famous For: Buddhist monasteries are known for their spiritual significance and meditation retreats
4. National Memorial Chorten
A visit to the National Memorial Chorten is a journey into the heart of Bhutanese spirituality and culture. This stately chorten, built in honor of the third king, Jigme Dorji Wangchuck, is a revered landmark in Thimphu.
As you approach the chorten, you'll be greeted by devotees circumambulating, spinning prayer wheels, and reciting mantras.
Step inside, and you'll be mesmerized by the intricate paintings adorning the walls, depicting various aspects of Buddhist teachings. Take a moment to offer your prayers or simply sit in quiet contemplation.
The chorten serves as a gathering place for locals, and you may witness families engaging in heartfelt prayers or monks performing religious rituals.
Location: Chhoten Lam, Thimphu
Best Time to Visit: Throughout the year
Famous For: A place for locals to gather and offer prayers
5. Dechen Phodrang
Dechen Phodrang is one of the best tourist attractions in Thimpu. Immerse yourself in the world of Bhutanese monastic education at Dechen Phodrang, a revered monastic school in Thimphu.
As you enter the premises, you'll be greeted by the gentle sounds of young monks reciting scriptures and engaging in their studies. The complex showcases traditional Bhutanese architecture with intricate woodwork and colorful frescoes.
Take a stroll through the tranquil courtyards and witness the devoted monks going about their daily routines. You may have the opportunity to interact with them, gaining insights into their spiritual practices and the significance of monastic education in Bhutan.
Location: Thimphu
Best Time to Visit: Throughout the year
Famous For: Ornate architecture and peaceful surroundings
6. Motithang Takin Preserve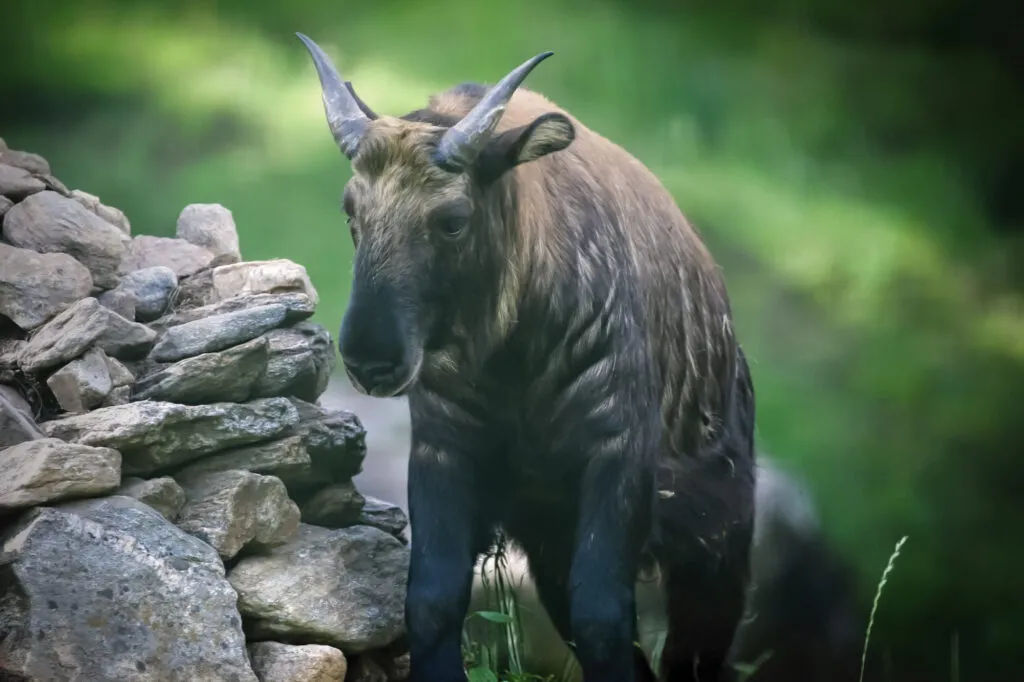 Prepare to encounter the fascinating Takin, Bhutan's national animal, at the Motithang Takin Preserve. As you enter the sanctuary, you'll be greeted by these extraordinary creatures roaming freely in their natural habitat.
The Takin, with its unique appearance blending the features of a goat and a cow, holds a special place in Bhutanese folklore and mythology.
Take a leisurely stroll through the preserve and observe the Takin grazing peacefully while enjoying the tranquil surroundings of lush forests.
Learn about the conservation efforts in place to protect these majestic animals and gain insights into their cultural significance in Bhutanese society.
Location: Motithang, Thimphu
Best Time to Visit: Throughout the year
Famous For: Being a sanctuary for the unique Takin, Bhutan's national animal
7. Simply Bhutan Museum
Step into the world of Bhutanese heritage and traditions at the Simply Bhutan Museum. This immersive museum offers a comprehensive insight into the rich cultural fabric of Bhutan.
Explore the exhibits that showcase traditional Bhutanese architecture, artifacts, and artwork. Engage in hands-on activities like weaving, painting, and archery to experience the essence of Bhutanese craftsmanship.
One of the highlights is the opportunity to dress in traditional Bhutanese attire, complete with a gho for men or a kira for women.
Immerse yourself in the vibrant colors and intricate designs of Bhutanese textiles as you embrace the local culture.
Location: Thimphu
Best Time to Visit: Throughout the year
Famous For: Showcasing Bhutanese culture, traditions, and way of life
8. Cheri Gompa Monastery
Embark on a spiritual journey to Cheri Gompa Monastery, nestled amidst the breathtaking beauty of Thimphu's pristine nature.
The monastery holds significant importance as a meditation retreat for monks, and the air resonates with a sense of tranquility. Begin your hike through lush forests, with the sound of chirping birds and rustling leaves as your companions.
As you ascend, be captivated by the panoramic views of the valley below. Upon reaching the monastery, take a moment to absorb the serenity and engage in quiet contemplation.
Explore the complex, where you'll find prayer halls, meditation caves, and sacred relics. The peaceful ambiance and the spiritual energy of the monastery offer a truly enriching experience.
Location: Thimphu
Best Time to Visit: March to May and September to November
Famous For: A sacred site associated with the revered saint, Drukpa Kunley
9. Royal Botanical Garden
Escape into the serene beauty of nature at the Royal Botanical Garden in Thimphu. Spread across vast acres, this botanical paradise is home to a diverse range of Bhutanese plant species, including rare and endemic varieties.
Stroll along the tranquil walking trails that meander through the garden, allowing you to immerse yourself in the captivating landscapes.
Marvel at the vibrant colors of blooming flowers, the soothing sound of cascading waterfalls, and the lush greenery that surrounds you.
The garden also plays a vital role in botanical research and conservation, preserving the precious flora of Bhutan for future generations.
Location: Serbithang, Thimphu
Best Time to Visit: April to June and September to November
Famous For: A vast collection of native Bhutanese plant species
10. Folk Heritage Museum
Step into the Folk Heritage Museum and embark on a journey through the cultural tapestry of Bhutan. Housed in a traditional Bhutanese farmhouse, the museum provides a fascinating glimpse into the rural way of life.
Explore the well-preserved exhibits, including household tools, religious artifacts, and traditional costumes, offering insights into Bhutanese traditions and customs.
Immerse yourself in the authentic ambiance as you wander through the various rooms, each reflecting a different aspect of the Bhutanese lifestyle. Engage in interactive activities like weaving, cooking, and archery, and learn firsthand about the daily activities of Bhutanese villagers.
Location: Kawajangsa, Thimphu
Best Time to Visit: Throughout the year
Famous For: Authentic rural farmhouse experience
Best Time to Visit Thimphu
The best time to visit Thimphu is during the spring (March to May) and autumn (September to November) seasons. These months offer pleasant weather with mild temperatures and clear skies, making it ideal for outdoor activities and sightseeing.
Spring brings blooming flowers and lush greenery, while autumn showcases vibrant foliage. However, it's important to note that Bhutan's climate can vary, and it's always a good idea to check the weather forecast before planning your trip.
How to Get to Thimpu
1. By Air
The nearest international airport is Paro International Airport, located about 50 kilometers from Thimphu. Several international airlines operate flights to Paro from major cities like Delhi, Bangkok, Kathmandu, and Singapore.
From Paro, you can hire a taxi or arrange transportation to Thimphu, which is approximately a 1.5 to 2-hour drive.
2. By Land
If you are already in Bhutan or in a neighboring country, you can reach Thimphu by land. Bhutan has road connections with India through Phuentsholing, which is about a 6-hour drive from Thimphu.
From Phuentsholing, you can hire a taxi or take a bus to reach Thimphu. It's important to note that foreign visitors require a valid visa and travel permits to enter Bhutan.
3. Internal Flights
If you plan to visit other parts of Bhutan before reaching Thimphu, you can consider taking internal flights. The domestic airline, Drukair, operates flights between Paro and other domestic airports, such as Bumthang and Gelephu. From these airports, you can then travel by road to Thimphu.
Where to Stay in Thimpu
Taj Tashi: Taj Tashi is a luxury hotel known for its elegant rooms, excellent service, and modern amenities. It offers a range of dining options, a spa, fitness center, and other facilities to ensure a comfortable stay.
Le Méridien Thimphu: Le Méridien Thimphu is a stylish hotel with contemporary design and comfort. The hotel provides well-appointed rooms, multiple dining options, a fitness center, and a spa. Its central location makes it convenient for exploring the city.
Amankora Thimphu: Amankora Thimphu is a part of the renowned Aman Resorts chain, offering luxurious accommodations and a serene environment. The hotel features spacious suites, beautiful mountain views, a spa, and a restaurant serving Bhutanese and international cuisine.
Where to Eat in Thimpu
Ambient Café: Ambient Café is known for its cozy atmosphere and delicious food. It offers a variety of cuisines, including Bhutanese, Indian, Chinese, and continental dishes. The restaurant is popular for its friendly service and pleasant ambiance.
Babesa Village Restaurant: Babesa Village Restaurant is a local favorite that serves authentic Bhutanese cuisine. It offers a range of traditional dishes prepared with fresh, locally sourced ingredients. The restaurant provides a warm and welcoming environment for guests to enjoy Bhutanese flavors.
Seasons Restaurant: Seasons Restaurant is a popular choice for both locals and tourists. It offers a diverse menu featuring Bhutanese, Indian, Chinese, and international dishes. The restaurant is known for its attentive service, comfortable setting, and delectable food.
Travel Tips & Suggestions
Obtain a valid visa and necessary permits before your visit to Thimphu.
Respect Bhutanese customs and traditions, such as dressing modestly and removing your shoes when entering temples or sacred sites.
Take advantage of the opportunity to try traditional Bhutanese cuisine, but also be aware that spicy food is common, so inform the waitstaff about your spice preferences.
Pack appropriate clothing for the weather, as Thimphu experiences cool temperatures throughout the year. Layering is recommended to adjust to changing conditions.
Respect the environment by practicing responsible tourism, including proper waste disposal and staying on designated trails when hiking or exploring nature.
Conclusion – Best Things to Do in Thimphu
In conclusion, Thimphu is truly a traveler's paradise, offering a plethora of mind-blowing experiences. These are the best things to do in Thimpu that are worth exploring for every kind of traveler.
From exploring the majestic Trashi Chho Dzong and Changangkha Lhakhang to immersing yourself in the rich culture and heritage at the Royal Textile Academy and Folk Heritage Museum, this vibrant city has it all.
Whether you're trekking through the breathtaking Jomolhari Mountain or indulging in the flavors of authentic Bhutanese cuisine at Chigjagye, every moment in Thimphu is filled with awe and wonder.
So pack your bags, embark on this journey, and let the enchanting beauty of Thimphu captivate your senses. Get ready to create memories that will last a lifetime in this traveler's paradise.
FAQs – Best Things to Do in Thimphu
What are the top attractions in Thimphu?
Thimphu is brimming with captivating attractions! Don't miss the grandeur of Trashi Chho Dzong, the spiritual ambiance of Changangkha Lhakhang, and the serene beauty of Tango Goemba. Explore the National Memorial Chorten, delve into Bhutanese history at Dechen Phodrang, and witness the unique wildlife at Motithang Takin Preserve. Immerse yourself in Bhutanese culture at Simply Bhutan Museum and Cheri Gompa Monastery, and take a peaceful stroll through the Royal Botanical Garden. Finally, don't forget to discover the rich heritage at the Folk Heritage Museum and witness the art of papermaking at the Jungshi Handmade Paper Factory.
What is the best time to visit Thimphu?
The best time to visit Thimphu is during the spring (March to May) and autumn (September to November) seasons. These months offer pleasant weather, clear skies, and vibrant landscapes. You can enjoy comfortable temperatures and participate in festive events like the Thimphu Tshechu, a colorful religious festival. Winter (December to February) can be chilly, but it offers a unique charm with snow-capped mountains. Monsoon season (June to August) brings rain, but it's a great time to witness the lush greenery of the region.
How can I get to Thimphu?
To reach Thimphu, you can fly to Paro International Airport, which is the nearest international airport. From there, it's approximately a one-hour drive to Thimphu. Alternatively, you can enter Bhutan through land routes from India. Regular bus services connect Thimphu with major cities in India, such as Kolkata and Siliguri. It's also possible to hire a private car or arrange for a guided tour that includes transportation.
Where should I stay in Thimphu?
Thimphu offers a range of accommodation options to suit every traveler's needs. For a luxurious stay, consider hotels like Taj Tashi or Hotel Druk, offering excellent amenities and world-class service. If you prefer a cozy boutique experience, hotels like Hotel Norling or Bhutan Suites provide comfort and a personal touch. Budget travelers can opt for guesthouses and homestays, such as Karma's Homestay or Sonam Trophel Inn, which offer a warm and welcoming atmosphere.
What are the must-try restaurants in Thimphu?
When it comes to dining in Thimphu, prepare your taste buds for an adventure! Try the authentic Bhutanese cuisine at Chigjagye, where you can savor dishes like Ema Datshi (cheese and chili), Kewa Datshi (potatoes and cheese), and Jasha Maru (spicy chicken). For a fusion experience, head to The Zone or Ambient Café, offering a mix of Bhutanese and international flavors. And if you're in the mood for a cozy café, Art Café is a perfect spot to enjoy a cup of coffee or tea with delicious homemade treats.
Are there any travel tips for visiting Thimphu?
When visiting Thimphu, it's essential to respect the local customs and traditions. Dress modestly, especially when visiting religious sites, and remove your shoes before entering temples or monasteries. Don't forget to try the traditional Bhutanese dress, known as the "kira" for women and "gho" for men, for a unique cultural experience. Carry a reusable water bottle and stay hydrated as you explore the city. Lastly, embrace the slow-paced lifestyle of Bhutan and take your time to
Related Posts