Looking for the ultimate guide on things to do in Almaty? You've come to the right place!
In this blog post, we'll take you on a thrilling journey through the vibrant city of Almaty, sharing our top recommendations and insider tips to make your visit truly unforgettable.
From our last visit to this place, we learned that Almaty is a treasure trove of experiences, where you can immerse yourself in the natural wonders of the surrounding mountains, indulge in mouthwatering cuisine, and dive into the rich history and vibrant culture of Kazakhstan.
So buckle up and get ready to explore the enchanting beauty, exciting activities, and cultural delights that await you in this incredible city.
5 Facts about Almaty
Almaty is the largest city in Kazakhstan and serves as the country's cultural and financial hub.
Surrounded by stunning mountains, Almaty offers breathtaking natural scenery and outdoor activities.
The city was the capital of Kazakhstan until 1997 and still retains its historical and architectural charm.
Almaty is known for its vibrant food scene, offering a variety of delicious cuisines from different cultures.
The city hosts numerous international events and festivals, showcasing its rich cultural heritage and attracting visitors from around the world.
Things to Do in Almaty
These are some of the best things to do in Almaty;
1. Kazakhstan Museum Of Arts
The Kazakhstan Museum of Arts is a cultural gem in Almaty, showcasing the rich artistic heritage of Kazakhstan. As you step into this magnificent museum, you'll be greeted by a vast collection of paintings, sculptures, and artifacts that represent the country's diverse cultural influences.
From traditional Kazakh art to contemporary masterpieces, the museum offers a comprehensive journey through the artistic evolution of Kazakhstan. You'll have the opportunity to admire the intricate craftsmanship, vibrant colors, and symbolic motifs that reflect the country's history and traditions.
Whether you're an art enthusiast or simply curious about the local culture, a visit to the Kazakhstan Museum of Arts is a must-do in Almaty.
Location: Satpaev St 50а, Almaty 050000, Kazakhstan
Timings: 10:00 AM to 6:00 PM (closed on Monday)
2. Climb Kok-Tobe Hill
For breathtaking panoramic views of Almaty, a climb up Kok-Tobe Hill is an absolute must. Situated on the outskirts of the city, this hill offers a scenic escape from bustling urban life.
You can reach the top by taking a leisurely stroll or riding the famous Kok-Tobe cable car, which provides a thrilling experience as it ascends to the summit. Once you reach the top, you'll be rewarded with a mesmerizing vista of the city, surrounded by majestic mountains.
Take your time to explore the various attractions on Kok-Tobe Hill, including the iconic Almaty TV Tower, souvenir shops, and cozy cafes. This is one of the best Things to Do in Almaty. Whether you visit during the day or at night when the city lights up, a visit to Kok-Tobe Hill promises unforgettable memories and stunning views.
Location: Almaty, Kazakhstan
Timings: NA
3. First President's Park
A visit to Almaty wouldn't be complete without exploring the tranquil oasis of First President's Park. This beautifully landscaped park pays tribute to Kazakhstan's first president and provides a serene escape from the city's hustle and bustle.
As you stroll through the park's lush gardens and winding pathways, you'll encounter statues, fountains, and charming bridges that add to the park's charm. Find a peaceful spot to relax, enjoy a picnic, or simply admire the natural beauty that surrounds you.
The park also offers recreational activities such as bike rentals and boat rides on the picturesque lake. Whether you're seeking solitude or a place to connect with nature, First President's Park is the perfect destination.
Location: Bostandyk District, Almaty, Kazakhstan
Timings: NA
4. Chukotka Bar
If you're looking for a unique and vibrant nightlife experience in Almaty, look no further than Chukotka Bar. Located in the heart of the city, this trendy establishment is known for its lively atmosphere and eclectic decor.
Step inside and you'll be greeted by colorful lights, funky artwork, and an energetic crowd. The bar offers a wide range of creative cocktails, local beers, and spirits, ensuring there's something to suit every taste.
Live music performances and DJ sets add to the energetic vibe, making it a favorite spot for locals and tourists alike. Whether you're seeking a fun night out with friends or looking to meet new people, Chukotka Bar promises a memorable experience in Almaty's nightlife scene.
Location: Gogol St 40, Almaty 050021, Kazakhstan
Timings: 12:00 PM to 1:00 AM from Monday to Wednesday, and 12:00 PM to 5:00 AM from Thursday to Saturday
5. Arasan Baths
For a rejuvenating and cultural experience, a visit to the Arasan Baths is a must. These historic public baths have been a cherished tradition in Almaty for centuries, offering relaxation and therapeutic benefits.
Step into the beautifully designed baths, and you'll be greeted by a tranquil ambiance and stunning architecture reminiscent of the city's rich heritage. The baths feature various pools, including hot, warm, and cold water baths, as well as saunas and steam rooms.
Indulge in a traditional Russian or Turkish bath experience, complete with massages and body treatments that will leave you feeling refreshed and revitalized. Whether you're seeking a moment of relaxation or a cultural immersion, the Arasan Baths provide a unique and rejuvenating experience in Almaty.
Location: Almaty, Kazakhstan
Timings: 7:00 AM to 11:30 PM
6. Central Mosque
The Central Mosque is a significant religious landmark in Almaty, serving as a symbol of Kazakhstan's Islamic heritage. With its striking architecture and grandeur, this mosque attracts both worshippers and visitors from around the world.
Step inside, and you'll be immersed in a serene and spiritual atmosphere. The mosque features intricate designs, elegant domes, and beautifully crafted minarets. It offers a peaceful space for prayer and reflection, allowing visitors to experience the Islamic culture and traditions of Kazakhstan.
Whether you're a religious traveler or simply interested in exploring architectural marvels, a visit to the Central Mosque is a cultural and spiritual journey worth embarking on in Almaty.
Location: Pushkin St 20, Almaty 050002, Kazakhstan
Timings: NA
7. Ice Skating
Embrace the winter wonderland of Almaty by indulging in the popular activity of ice skating. With its cold climate and stunning natural surroundings, the city offers several ice skating rinks where both locals and tourists can enjoy gliding on the ice.
Lace up your skates and head to one of the outdoor or indoor rinks available throughout the city. Whether you're a seasoned skater or a beginner, the joy of skating amidst the snow-covered landscape is an experience like no other.
Soak in the festive ambiance, feel the cool breeze on your face, and create lasting memories as you glide gracefully or playfully stumble across the ice in Almaty.
Location: Gornaya St 465, Almaty 050020, Kazakhstan
Timings: 10:00 AM to 11:00 PM (closed on Monday)
8. Big Almaty Lake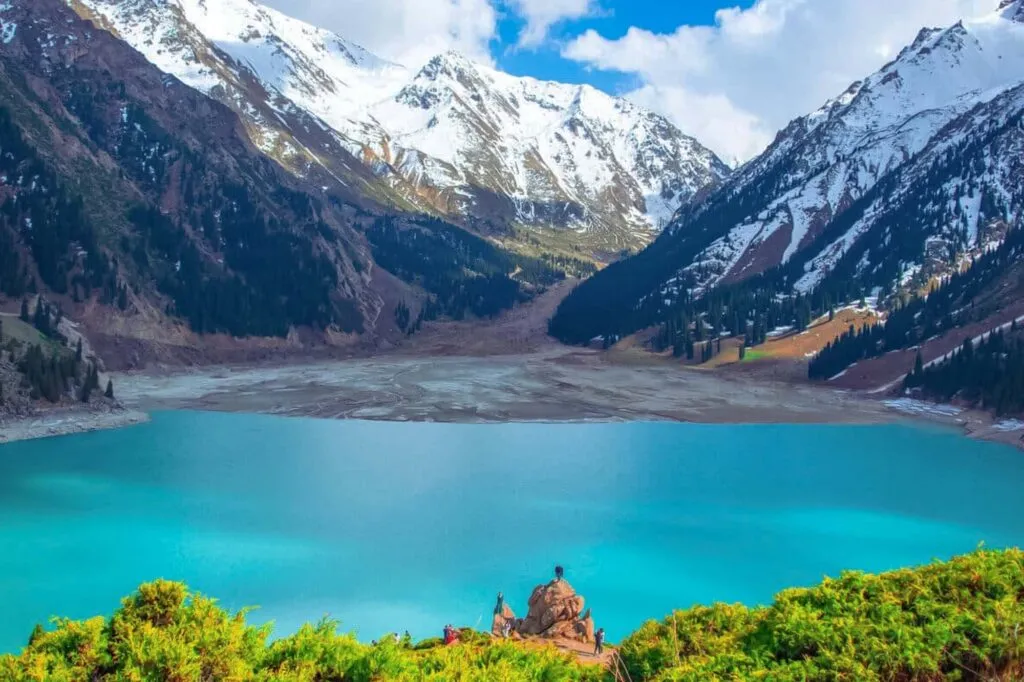 Nature lovers and outdoor enthusiasts will find paradise at the Big Almaty Lake. Nestled in the mountains just outside the city, this stunning alpine lake offers a breathtaking escape from urban life. Surrounded by snow-capped peaks and picturesque landscapes, the lake's turquoise waters create a mesmerizing sight.
Hike through the scenic trails leading to the lake, and once you arrive, take a moment to absorb the serene ambiance and breathtaking views. The crystal-clear water reflects the surrounding mountains, creating a postcard-worthy scene.
Whether you choose to simply admire the view or embark on further exploration, a visit to Big Almaty Lake is a tranquil and awe-inspiring experience.
Location: Ili-Alatau National Park, Almaty 050065, Kazakhstan
Timings: NA
9. Zhibek Zholy Pedestrian Street
Immerse yourself in the vibrant atmosphere of Almaty by taking a stroll down Zhibek Zholy Pedestrian Street. This bustling thoroughfare is a hub of activity, lined with shops, cafes, restaurants, and entertainment venues.
As you walk along the street, you'll be captivated by the lively energy, colorful facades, and the mix of modern and traditional architecture. Browse through boutique stores, sample local delicacies at street food stalls, or simply people-watch as the city comes alive.
Zhibek Zholy Pedestrian Street offers a wonderful blend of shopping, dining, and cultural experiences, making it a must-visit destination for travelers looking to soak up the vibrant spirit of Almaty.
Location: Zhibek-Zholy Street, Almaty, Kazakhstan
Timings: NA
10. Kazakh Museum
Dive into the rich history and cultural heritage of Kazakhstan by visiting the Kazakh Museum. This esteemed museum showcases a diverse collection of artifacts, exhibitions, and interactive displays that offer insights into the country's past and present.
Explore the museum's galleries, which encompass various themes such as archaeology, ethnography, and art. Admire ancient artifacts, traditional costumes, and contemporary artworks that highlight the country's cultural diversity.
The museum's informative exhibits provide an educational and immersive experience, allowing visitors to deepen their understanding of Kazakhstan's traditions, customs, and historical significance. Whether you're a history buff or a curious traveler, the Kazakh Museum promises an enriching and enlightening journey through the country's heritage.
Location: Zenkov St, Almaty 050000, Kazakhstan
Timings: 10:00 AM to 7:00 PM (closed on Monday)
11. Shymbulak Ski Resort
Nestled in the majestic Tian Shan mountains, Shymbulak Ski Resort is a paradise for winter sports enthusiasts. With its pristine slopes, powdery snow, and breathtaking alpine scenery, this resort offers an exhilarating skiing and snowboarding experience.
Whether you're a seasoned pro or a beginner, Shymbulak has trails suitable for all skill levels. Take a thrilling ride on the chairlifts to reach the higher peaks, where you can enjoy panoramic views before descending down the slopes.
The resort also provides equipment rentals, professional instructors, and cozy lodges where you can relax and warm up after an exciting day on the snow. Shymbulak Ski Resort is a must-visit destination for those seeking adrenaline-pumping adventures and unforgettable memories in Almaty.
Location: Gornaya St 640В, Almaty 050020, Kazakhstan
Timings: 9:30 AM – 6:00 PM
12. Huns Ethno Village
Step back in time and immerse yourself in the ancient culture of the Huns at the Huns Ethno Village. Located in the picturesque countryside near Almaty, this open-air museum offers a unique glimpse into the nomadic lifestyle of the Huns, a historically significant Central Asian tribe.
Explore the traditional yurts, observe traditional crafts and practices, and learn about the customs and traditions that shaped the Huns' way of life. Engage in hands-on activities such as horseback riding, archery, and traditional games, allowing you to truly experience the spirit of the Huns.
The village also hosts cultural events and performances, providing a captivating and educational experience for visitors interested in Kazakhstan's ancient history and nomadic heritage.
Location: Talgar district, Kazakhstan
Timings: NA
13. Falcon Hunting Festival
Witness an extraordinary display of skill and tradition at the Falcon Hunting Festival. Held in the vast landscapes surrounding Almaty, this unique event celebrates the art of falconry, a time-honored practice in Central Asia.
Watch as skilled falconers demonstrate their bond with these magnificent birds of prey, showcasing their hunting techniques and agility. The festival showcases various traditional aspects of falconry, including bird releases, falcon races, and spectacular aerial displays.
Immerse yourself in the lively atmosphere, savor local delicacies, and engage with falconers who are passionate about preserving this ancient tradition.
The Falcon Hunting Festival offers a rare opportunity to witness an ancient sport that has been passed down through generations, providing an unforgettable experience that combines nature, culture, and the beauty of falconry.
Best Time to Visit Almaty
The best time to visit Almaty, Kazakhstan, is during the spring (April to June) and autumn (September to October) seasons. During these months, the weather is pleasant with mild temperatures, making it ideal for outdoor activities and sightseeing.
Spring brings blooming flowers and lush green landscapes, while autumn offers vibrant foliage and a picturesque ambiance. Summer (July to August) can be hot, but it is also a popular time for outdoor festivals and events.
Winter (December to February) brings cold temperatures and snow, attracting winter sports enthusiasts. Plan your visit to Almaty during the spring or autumn for a delightful and comfortable experience.
How to Get to Almaty
1. By Road
Almaty is well-connected by road, making it accessible by car, bus, or taxi. The city is linked to major cities in Kazakhstan and neighboring countries through a network of highways. If you prefer the flexibility of driving, you can rent a car and embark on a scenic road trip to Almaty, enjoying the picturesque landscapes along the way.
2. By Train
Almaty has a well-developed railway network, making train travel a convenient option. The city is connected to major cities in Kazakhstan and neighboring countries through regular train services. You can board a train from cities like Nur-Sultan, Shymkent, and Taraz to reach Almaty comfortably.
3. By Air
Almaty International Airport serves as the primary gateway to the city, offering domestic and international flights. It is well-connected to major cities around the world, including Moscow, Istanbul, Dubai, and Beijing. Several airlines operate regular flights to Almaty, providing convenient access for travelers.
Where to Stay in Almaty
Rixos Almaty Hotel: Situated in the heart of Almaty, Rixos Almaty Hotel offers a luxurious and comfortable stay. With its elegant rooms, exceptional amenities, and impeccable service, this 5-star hotel ensures a memorable experience. Enjoy stunning views of the city and the surrounding mountains, indulge in gourmet dining options, and unwind at the spa and wellness center.
The Ritz-Carlton, Almaty: Located in the upscale Esentai Tower, The Ritz-Carlton, Almaty combines sophistication and elegance. The hotel offers spacious rooms and suites with modern amenities and breathtaking views of the city skyline. Guests can savor a variety of dining options, relax at the luxurious spa, and enjoy the indoor pool and fitness center.
Grand Hotel Tien-Shan: Grand Hotel Tien-Shan is a charming boutique hotel nestled in the heart of Almaty. With its cozy atmosphere and stylishly designed rooms, the hotel offers a comfortable and relaxing stay. Guests can enjoy delicious meals at the on-site restaurant, unwind at the bar, and take advantage of the wellness facilities.
Where to Eat in Almaty
Nauryz: Located in the heart of Almaty, Nauryz offers a delightful dining experience with its authentic Kazakh cuisine. Indulge in traditional dishes like beshbarmak (boiled meat with noodles), kazy (horse meat sausage), and kuyrdak (fried organ meats) while immersing yourself in the warm and welcoming atmosphere.
Zheti Kazyna: Zheti Kazyna is a renowned restaurant in Almaty, known for its elegant ambiance and exquisite Kazakh and Central Asian cuisine. The menu features a wide range of dishes, including plov (rice pilaf), manty (steamed dumplings), and shashlik (grilled skewered meat), prepared with meticulous attention to flavors and presentation.
Aksai Fish Restaurant: If you're a seafood enthusiast, Aksai Fish Restaurant is a must-visit culinary destination in Almaty. Specializing in fresh fish and seafood dishes, this restaurant offers a delectable selection of grilled fish, seafood platters, and mouthwatering seafood soups. The cozy and relaxed atmosphere, paired with the impeccable taste and quality of the dishes, ensures a memorable dining experience.
Travel Tips & Suggestions
Carry cash in local currency (Kazakhstani tenge) for small businesses and transportation.
Dress in layers as the weather can vary throughout the day.
Try traditional Kazakh cuisine at local restaurants for an authentic culinary experience.
Take advantage of the efficient public transportation system, including the metro and buses.
Visit the nearby natural attractions, such as Big Almaty Lake and Charyn Canyon.
Respect local customs and traditions, including removing shoes when entering homes or mosques.
Learn a few basic phrases in Russian or Kazakh to communicate with locals and navigate the city.
Conclusion – Things to Do in Almaty
In conclusion, Almaty is a vibrant city that offers a wide range of attractions and activities to suit every traveler's taste. From exploring the rich cultural heritage at museums and landmarks to indulging in the delicious local cuisine, Almaty has something for everyone.
The city's natural beauty, with its stunning mountains and picturesque landscapes, provides the perfect backdrop for outdoor adventures such as skiing, hiking, and ice skating. There are various Things to Do in Almaty.
Whether you're seeking cultural experiences, adrenaline-pumping activities, or simply want to immerse yourself in the lively atmosphere of the city, Almaty is sure to captivate you with its charm.
So pack your bags and get ready to embark on an unforgettable journey filled with art, history, nature, and exhilaration in the heart of Kazakhstan.
FAQs – Things to Do in Almaty
What are the top attractions and landmarks to visit in Almaty?
When exploring Almaty, be sure to visit the Kazakhstan Museum of Arts to immerse yourself in the rich cultural heritage. Don't miss climbing Kok-Tobe Hill for breathtaking views of the city, and make time to relax at the tranquil First President's Park. For a taste of Almaty's vibrant nightlife, head to Chukotka Bar. And if you're interested in the city's religious heritage, a visit to the Central Mosque is a must.
What outdoor activities can I enjoy in Almaty?
Almaty is a paradise for outdoor enthusiasts! Take advantage of the stunning mountains by skiing or snowboarding at Shymbulak Ski Resort. Explore the picturesque trails leading to the breathtaking Big Almaty Lake. You can also indulge in ice skating in the city's various rinks. And if you're up for an adventure, don't miss the Huns Ethno Village, where you can experience the nomadic lifestyle and engage in activities like horseback riding.
What are some must-try local dishes in Almaty?
Almaty is a food lover's paradise! Make sure to try the mouthwatering cuisines from different cultures available in the city's vibrant food scene. Sample traditional Kazakh dishes like Beshbarmak (boiled meat with noodles) and Kazy (horsemeat sausage). Don't miss the opportunity to savor delicious Russian and Turkish dishes as well. You can explore the local flavors by visiting restaurants and street food stalls along Zhibek Zholy Pedestrian Street.
What are the best times to visit Almaty?
The best time to visit Almaty is during the summer months of June to September when the weather is pleasant for outdoor activities. However, if you're a fan of winter sports, the snowy months of December to February are perfect for skiing and snowboarding. Keep in mind that Almaty hosts numerous international events and festivals throughout the year, so checking the event calendar can help you plan your visit accordingly.
Are there any shopping opportunities in Almaty?
Almaty offers a diverse shopping experience. Stroll along Zhibek Zholy Pedestrian Street, where you'll find a mix of modern and traditional shops offering a variety of goods. Don't miss the chance to purchase unique souvenirs from the souvenir shops at Kok-Tobe Hill. You can also explore boutique stores in the city center for clothing, jewelry, and local handicrafts.
What are some family-friendly activities in Almaty?
Almaty has plenty of family-friendly activities to enjoy. Take your kids to the Kazakhstan Museum of Arts, where they can appreciate the diverse artworks and artifacts. Visit First President's Park for a relaxing family picnic and boat rides on the lake. During winter, head to Medeu Ice Rink for ice skating fun. And don't forget to explore the Almaty Zoo, home to various species of animals and birds.
How can I explore the cultural side of Almaty?
To delve into the cultural side of Almaty, visit the Kazakhstan Museum of Arts and immerse yourself in the country's art and history. Explore the architectural wonders like the Central Mosque and Ascension Cathedral. Attend traditional festivals and events happening throughout the year to experience the vibrant cultural traditions. Engage in local walking tours or hire a guide who can provide insights into the city's culture, traditions, and hidden gems.
Next Available Trip
Get ready to explore Kazakhstan with One in the Orange Jacket. Discover Kazakhstan and Kyrgyzstan on our group trip. Stunning landscapes, rich traditions, and friendly locals await. Join expert guides for an unforgettable adventure, creating lifelong memories.
Related Posts